RURAL / URBAN / COMMUNAL
HEIGHWAY FIELD ASSOCIATES enjoys well established links with the majority of major Housing Associations active within the South-West. We work closely with their Development Teams to conceive high quality, environmentally astute and affordable housing. Completed schemes range from small rural housing groups to large phased urban renewal programmes involving tenant participation, and include several designed to meet the requirements of 'special needs' groups.
Our expertise extends from individual family housing through to sheltered, nursing, student and hostel accommodation complexes. Housing providers can benefit from our longstanding positive working relationships with numerous local authorities and other professional consultants as well as our wide experience within the PRIVATE RESIDENTIAL and HISTORIC sectors.
Conversely, our acquired knowledge of sustainability and energy conservation initiatives promoted by the Housing Corporation usefully informs our work in other sectors. The Practice is frequently instrumental in sourcing and securing appropriate development sites for providers and nurturing mutually beneficial collaborations with private sector developers.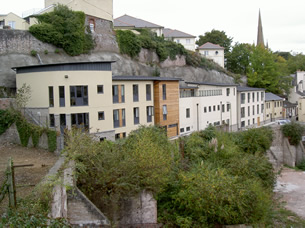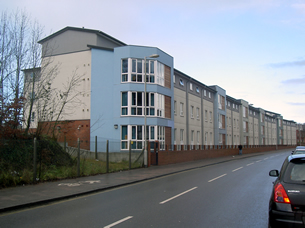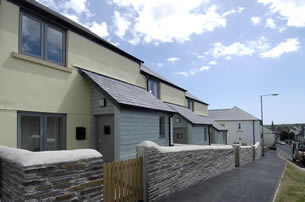 SELECTED PROJECTS:
RURAL:
19 Affordable Houses/Flats, Bude 1997 - 2000
54 Affordable Houses, Cullompton 1998 - 2000
16 Affordanle Houses, Camelford 2001 - 2003
8 Affordable Houses, Paignton 2002 - 2003
13 Affordable Houses, Blackawton 2002 - 2005
9 Affordable Houses, Bittaford 2003 - 2005
8 Affordable Houses, Newton Ferrers 2003 - 2006
20 Affordable Houses / Flats, Kingsbridge 2005 - 2006
18 Affordable Houses, Bideford 2009 - 2011
6 Affordable Houses, Silverton 2009 - 2011
32 Houses/Flats, Lostwithiel, Cornwall 2009 - present
URBAN:
62 Affordable Houses, Brixton, Plymouth 1998 - 2001
40 Affordable Houses, Exeter 2002 - 2004
13 Affordable Flats, Torquay 2003 - 2004
62 Affordable Houses, Exeter 2003 - 2005
12 Affordable Houses, Exeter 2004 - 2005
63 Refurbished Houses, Exeter 2005 - 2007
7 Refurbished Flats, Torquay 2005 - 2007
10 Affordable Houses, Exwick 2008 - 2009
35 Affordable Houses/Flats, Plymouth 2009 - 2011
40 Refurbished Almshouses, Exeter 2009 - present
84 Refurbished Flats, Exeter 2010 – 2014
COMMUNAL:
See-ability Residential Care Unit, Exeter 2003 – 2005
50 Key Worker Studio Apartments, Taunton 2004 - 2009
24 Bed Homeless Hostel, Torquay 2005 – 2008
PointExe Student Accommodation, Exeter 2006 - 2008